Celebrity hair trends are something most people follow and try to emulate. From Terry Pheto's pixie, to Amanda Du Pont's frohawk, where does a girl start? We've made the process of finding your perfect do a little easier with this simple guide on SA celebrity hair and what's trending at the moment.
So if you're looking for a bit of a change, take a look at our suggestions below and maybe even give one a try.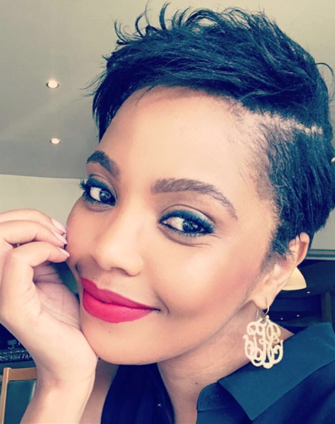 A Pixie cut with Terry Pheto
Short and sassy, Terry Pheto hits the spot with her trendy hair this season. With shorter hair, you're going to want to watch how often you relax your hair. Every 8-12 weeks should be more than enough; this should maintain the health of your hair. Ensure that you condition and wash your hair every 4-7 days using a leave in conditioner.

Short hair is an adventure, it's trendy, feisty and focuses on your beautiful features. So if you're the kind of girl, who like Terry Pheto has a spirit of adventure and risk, get that short look going and rock it with confidence.
Cornrows and braids with Khanna Mkangisa
Channel your inner Khanya Mkangisa with these cute braided cornrows. Two braids down the side are probably one of the trendiest and easiest hairstyles going around at the moment. It's easy, breezy and perfect for sunny days at the beach or brunch with the girls. The best part is that it requires minimal care and you still look fresh and fabulous.
A Mohawk/frohawk with Amanda du Pont
Keeping it fresh and trendy with side cornrows and a frohawk has never been this easy! Best believe Amanda du Pont knows how to keep things fresh. This one will take you from day to night with minimal fuss and will have you turning heads wherever you go. It's a trendy style that's mixed with modern chic, without the risk of shaving the sides of your head!
Afro-funk with Simphiwe Dana
Our afro goddess Simphiwe Dana knows how to rock her fro with confidence, now you can too! This electric style is for those lovely ladies wanting their hair to look done up, but still using their own hair. If you're using a weave to achieve this look, make sure it's 100% natural human hair for the best results from heating and colouring. The best part about an afro, is that it goes with any kind of look, from classic to trendy, it transitions with your style.
Dreadlocks with Latoya Makhene
Like our lady Latoya with a big personality, comes bold hair! We are loving the ethnic retro glam that she's added to her locks. Locks speak of confidence and with this look, you can put it in an updo for work and then let it hang loose for night on the town. Dress it up with a few hair accessories and you're bound to make a statement. If you're not into the commitment that comes with natural locks, you can have faux locks installed rather! Just make sure it's 100% natural human hair for the best results when heating and colouring. An awesome tip for locks, is to blow dry them if they get wet. In this way you keep them fresh, without losing their texture.
A Long and wavy weave with Ayanda Thabethe
Long, wavy hair is also a win with ladies everywhere and Ayanda Thabethe looks nothing less like a queen with hers. With hair trends changing so regularly, make sure your lovely weave is 100% human hair, so that you can style and colour it to perfection. For this look, simply wrap pieces of your hair at a time around a curling iron, hold in place for 4 seconds and let go. Gently brush through your hair to open up the curls and you're now ready to rock the Ayanda look.
Your hair journey is your own, so whether you want to braid your hair like Khanya or let it fall free like Simphiwe, you do what suits your style. The great thing about hair is that you can change it up whenever you want. Braids, afros, weaves, dreads, and cornrows are just a few of the endless hair trends at your fingertips. If you're looking for more tips on haircare and hairstyles, take a look at what's trending right here
www.inecto.co.za
for more pieces of 'hair-spiration'.
Comments