Have you ever looked at some of our local celebrities and thought that you would love to have their hairstyles or try some of their hair colour ideas? Maybe the style seemed too complicated, or you assumed it took a whole team of professionals to make them look that amazing.
Well, today I want to show you a few easy everyday hairstyles inspired by our local celebrities that you can try at home. I'm talking fades, buns, braids and more. Not to mention that there is a way for all of us to jazz these super easy hairstyles up with a few hair colour ideas!
Nandi Mngoma – Hi-Top Fade
Who doesn't love Nandi and her unique hairstyles? The hi-top fade was first introduced during the early 90's in the United States, where men predominantly wore the style, but Nandi shows us ladies how to rock the style in a sexy and ultra-feminine way. This is a definite easy go-to style for all my sisters out there that want to rock it natural, short and fierce. Visit your local barber and ask him or her to bless you with their sheers and hook you up with the Nandi Mngoma cut!
Try some colour!
Feeling bold and sassy? Why not spice up this hi-top fade with a little hair colour? Try Inecto Colours Caramel Blonde for a bold and classy look that allows you to stand out among the crowd and look like a star!
"I do maintain that if your hair is wrong, your entire life is wrong."- Morrissey
Pearl Thusi – Topknot Bun
Who doesn't long for Pearl Thusi's thick mane of hair? If you are blessed with thick and long natural hair like Pearl, you can go ahead and create this style. Do this by putting all of your hair into a high ponytail at the top of your head. Be sure that the ponytail isn't too tight. Wrap the tail of the hair around the ponytail to create a bun as tight or as loose as you would like and secure with hairpins.
Add a hairpiece to your hairstyle!
If you don't have the natural length to achieve this hairstyle, opt for attaching synthetic braiding hair to your natural ponytail. Then wrapping around to form a chic topknot bun. This look is easy and appropriate for any occasion.
Minnie Dlamini – Box Braids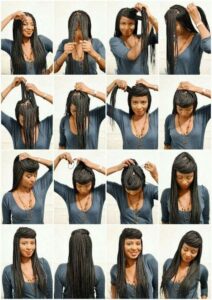 Box braids have been around forever and they tend to be almost every woman's go-to hairstyle. Sitting in the salon chair with 2 people braiding your hair at the same time for 4 or more hours is a daunting task, but the outcome is always stunning.
Style your box braids with a half up and half down look like Minnie, try a box braid bang or accessorize with a beautiful scarf.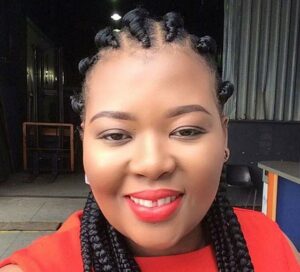 Anele Mdoda – Straight Backs "CORNROWS"
If you are a busy host, radio DJ and mum like Anele Mdoda, straight back braids are the way to go. They are easy to maintain and you can make them as thick or thin as you like. The best part is that this east everyday hairstyle can last you up to two months. To jazz up this hairstyle a bit, you could add a different colour synthetic braiding hair to give it a fresh and funky look.
Follow Inecto on Facebook and Instagram.
Comments