Naturalistas are everywhere with their natural African hair styles. Women are embracing their gorgeous natural locks. With these simple natural African hair styles, say goodbye to 8-hour salon visits and say hello to 'natural'. In this instance, your hair gets to breathe and you look fabulous in the process.
Hair styles have evolved over time, going from never letting those baby hairs show, to enhancing them with cornrows. So what's a girl to do in order to keep up with the trend? All the while avoiding the fuss that comes with it! Follow this simple natural African hair styling guide for an easy way to style and colour your tresses. Just like the fashion-forward girl that you are!
The Fro-hawk
Take a walk on the wild side with this trendy and somewhat edgy style. Pin up the sides of your hair so that you create a Mohawk, without having to reach for the scissors. Leave the top fluffed out to create the Fro-hawk effect. To add an extra little something, you could use our Just Copper hair colour (from our INECTO Plus range) to brighten up the ends.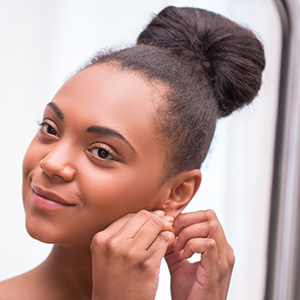 Bun it up
Slide into this sophisticated look with a neat high bun. Lightly spray your hair with a mixture made from water and a few drops of your favourite oils. Once it's slightly damp, gently work it up into a ponytail and tie it with a hair tie. Loosely form your bun around the hair tie and pin it with bobby pins as you go. Finally, use hairspray to smooth it out. If you're not into crazy colours, try our Hot Chocolate hair colour from INECTO to give your bun a deep, yet natural chocolate colour that compliments your skin tone.
Cornrows for days
Trendy, sleek with a touch of glam, cornrows are what's hot right now. Whether it's just two rows down each side, or three rows to add a bit of edge, they're always a hit. To get the best result, consult your hairdresser first. Our Super Auburn hair colour will also bring out this style and make it stand out in a crowd.
Closely clipped sides
Let the curls go wild with this curly and confidence hairdo. Taper the curls at the back with the front ends growing a bit longer to create a cool fringe. Adding a bit of colour, our INECTO colours range boasts 11 different shades, transforms your hair into a showstopper.
Pin up glam
Style your hair with a 50's twist and this neat pin-up hairdo! This style requires a head wrap and a neat little pinned up bun. Pin up the sides of your hair so that your curls fall neatly on top of your head and finally tie the head wrap around it, leaving a little fringe of curls in the front. Our INECTO Passion Plum works great with this style, giving you highlights that make this look ultra-glam.
(Images source: Pinterest & Tumblr)
Hairstyles are there for everyone. We all want to try out what's trending at the moment. That's why it's important to take it and make it your own. Try vamping up your style with our full-colour range. Transforming a normal hair day, into a great one with ease. So whatever style you choose to rock on any day, do it with confidence and a little sass.
Keep in the loop about all things hair by our social media pages: Facebook. Instagram.
Comments