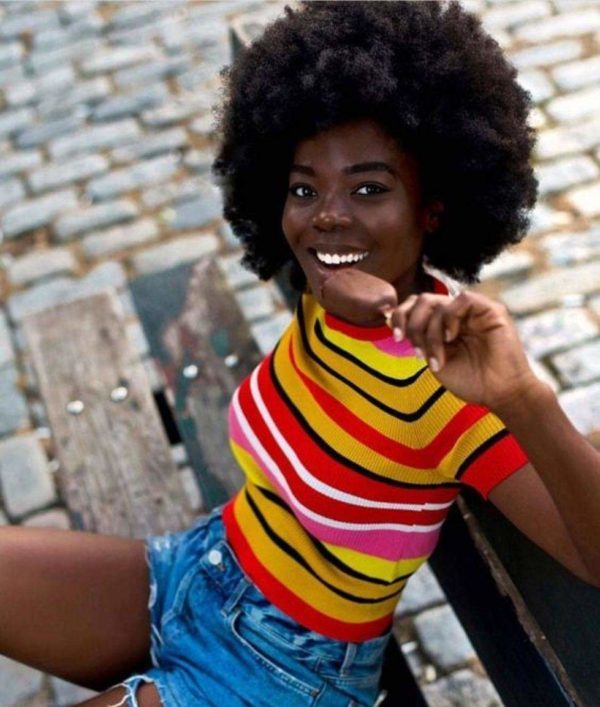 "Natural Hair is an Exquisite Crown. It's a wonder and fascination to many. But the confident Black girl or Black woman who's rocking it, they know what they've been born and blessed with. A head full of unique, healthy beauty. NATURAL BEAUTY." – Stephaine Lahart, Author & Poet
Hey soul sister. The natural hair movement has been on the rise, are you a part of it? At Inecto we've got a whole lot of inspiration to get you to join the movement. We've seen some amazing hairstyles over the last decade.
The hairstyles that were the most outstanding were, without a doubt, natural hair. There's nothing like taking pride in your natural roots. It's a powerful statement of who you are and what you stand for. We love how women are embracing natural hair and showing us that they can play around with different natural hair colours.
At Inecto, we're here to give you the 411 on the trendiest natural hairstyles and natural hair colours to experiment with. From our Ultra Gloss range, Inecto Colours range and our SuperBlack range, we guarantee that we will put natural back into colour. So, get ready to be inspired for your next best natural hair colour and hairstyle.
Inecto Ultra Gloss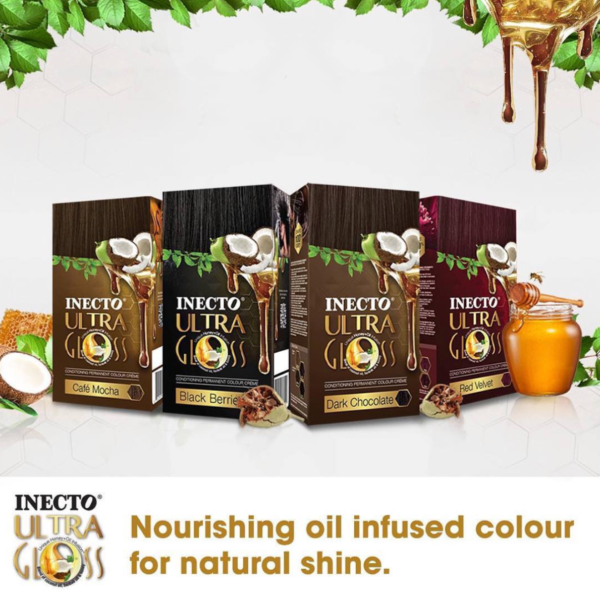 Just like the name, Inecto's Ultra Gloss will be sure to leave your hair looking ultra-glossy and smooth. Infused with coconut oil, honey and baobab oil, Inecto's Ultra Gloss will bring the shine and silkiness back into your hair.
With four rich and natural hair colour ranges to choose from, your natural hair will be thanking you. From shades like BlackBerries, Café Mocha, Dark Chocolate and Red Velvet, this range doesn't get more natural than that. Inecto's Ultra-Gloss is the all in one hair solution that your hair has been waiting for.
Colour up and choose from one of these trendy hairstyles. You won't regret it.
BlackBerries Bantu Knots
 Style has never looked this bold and we've got fierce Bantu knots to thank. With this remarkable hairstyle being on the rise since the 90's, we're glad to have it embrace us in this new decade.
It's serving major natural hair vibes, and the striking bold black hair colour just intensifies its natural stance. The best part about Bantu knots is that whilst it's considered high fashion, it also serves as a protective style for your hair. Talk about #hairgoals. You can achieve this intense natural hair colour with Inecto's Ultra Gloss Black Cherries.
Café Mocha Twist Out
It's time to wake up every day feeling rejuvenated, and this coffee-coloured hair will do just that. Feel brand new, refreshed and alive in this gorgeous natural hair colour that will take your look to new levels.
Stay rooted in your natural roots with these earthy-toned twist outs and love who you are. You and your kinky coils will be sure to inspire everyone around you to go natural. Get this fiyah look with Inecto's Ultra-Gloss Café Mocha.
Inecto  Colours
Get the perfect natural hair colour with Inecto's Colour range. With fourteen bold shades to choose from, your options are endless. With Inecto Colours, you can express your natural beauty and shine through with the shade of your choice. Inecto colours give you the power to change the colour of your hair as often as your heart desires.
With its added Aloe and Milk protein conditioner, after colour treatment and improved non-drip formula, you can style your hair with no limits. Let's take a look at some natural hair colours you can rock with our Inecto Colours range.

Brazen Brown Afro
It's time to go big or go home, and with this natural hair movement, we're going as big as an afro can get. We absolutely love the dark brown hues of this afro. It's fun, fresh, funky and so invigorating.
With a hairstyle and natural hair colour like this, nothing can bring you down. Transform your hair with this breathtaking natural hair colour from Inecto's Colours range. Choose the foxy shade Brazen Brown and you won't look back.
Ruby Red Dry Perm
Ignite your passion for rocking your natural hair even more with this fiery burgundy shade. We're living for this cutting-edge dry perm hairstyle, and the tapered curls add an even more renowned look to this natural hairstyle.
This passion-filled colour will be sure to set you apart from the crowd. Get this blazing hair colour when you try Inecto Colours range in the shade Ruby Red. It's smooth, silky and #flames.
Inecto SuperBlack
If you're looking for a timeless hairstyle, then Inecto's SuperBlack hair colour is sure to deliver just that. Crank up the volume on your hair's beauty, with this spectacular hair colour.
Inecto's SuperBlack includes an after colour conditioner that's enriched with healing aloe and protein properties. Not only will you have a bold new colour, but it will also leave your hair feeling softer and looking healthier too.
SuperBlack Natural
Turn back time with this classic hairstyle. Pure, elegant, sophisticated and 100% natural. Wear your hair like the crown it is and you'll be falling in love with it over and over again.
We absolutely love how this parted afro brings a sense of strength and power. Own your black girl magic with this glamorous hair colour from Inecto's SuperBlack range. Make your hair stand out. Girl, you've got this.
Are you feeling the inspiration to go natural? We definitely are. From Inecto's Ultra Gloss range, Inecto Colour range and our SuperBlack range, there are no limits to your natural look.
Tell us in the comments which hair colour and hairstyle you're inspired to try out next. Tag us on our socials and show us how you're proudly a part of the natural hair movement with your natural hair colour. We can't wait to see all of your gorgeous pics.
Show off your natural black hair by tagging us on Facebook and Instagram.
Comments