Say goodbye to protective hairstyles and hello to popping hairdos with our new limited edition shades. Summer is on the horizon, sis. It's time to hit braai's, get-togethers and music festivals with summer-ready hair.
Ensure that your hair colour reflects the new season with our three brand spanking new shades. We're launching Copper Red, Burgundy and Purple Black so you can show up and show out at any special occasion.
Here are seven ways to match the heatwave outside with your vivid hair.
1. Copper Red High Puff
'Someone call the fireman, coz girl, your look is on fire.' – Author Unknown
If a bold shade is on the cards then naturally you should try our Copper Red. It's a spicy cinnamon-meets-scarlet shade that says, 'Keep your eyes on me.'
Rock your fro in a high puff to show off this vivid colour. Then add some perm rods to define those curls. Now you're more than ready to go out and slay.
2. Fiery Faux Hawk
Whether you're opting for a summer haircut or a bold mohawk, get ready to stand out with this bright shade. Our Copper Red colour is designed to turn up the heat on the already edgy curly tapered cut.
3. Sizzling hot TWA
TWA ladies stand up. This one is for you. Serve #HairGoals with a bold colour paired with a daring make-up look. Pump up the coils and slay. Then take your style from campus to that evening 'turn up' with ease.
4. Curls in burgundy
Next up in the colour spectrum is the deep but bold burgundy. Don't get it twisted; this shade packs a punch in the colour department. Think of it as the darker, full-bodied sister to the Copper Red. It's perfect for those who want to ease their way into red hair.
If you plan to rock natural twist outs, then go for this bomb shade to level up your look. Your coils will be treated to the wine-coloured tones that the colour offers.
PS: Pair your burgundy shade with your fave accessories and shine.
5. Blended TWA
Keep things low maintenance and high fashion with a TWA in the Burgundy shade. It's a get-up-and-go hairstyle that means business. You can't help but admit that melanin and red have never looked this good together. 
6. Purple Black Curls
If the idea of hair that shines in the sun gets you excited, then look no further, our Purple Black is all this and more. This regal shade comes alive when sun rays bounce off it, giving your coils the shine they deserve. If you're blessed with this curly 'fro, then make sure it pops with this understated hair colour.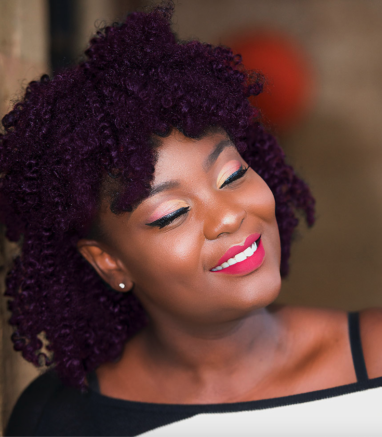 If you have type 3 hair, add pins in a star formation to take this look from day to night with ease.
7. Purple afro bob
Who said afros should be tamed? Let your hair be free with these effortless bomb curls. Tease out your coils with an afro comb and try our Purple Black, then hit that braai in style.
Regal Finger Waves
If Finger Waves are more your flavour, then experiment with this classy style. Just wait at least two weeks after you've relaxed your hair before you colour it. Then go ahead and embrace your inner Justine Skye with this purple hairdo.
Make each event count with hair that speaks for itself with our limited edition shades. With our three limited shades, you'll level up your look while nourishing your hair with the Aloe and Milk Protein conditioner. The warm weather was never ready for your new shade, so don't be afraid to stunt.
Transform your look with one of our shades and tell us how much you like them on our social pages: Facebook & Instagram.
Comments